Home - Tools - Outils - Articles FR - Articles EN -> Natural Astrology in Practice
The 2005 Atlantic Hurricanes and the 2006 Forecasts


The diagrams show declination for the Moon and the planets in 2005 and 2006.

They point at a possible relationship between hurricanes and Moon declination.

Bare in mind, if you are new to this: a body's declination equals to a projection on earth latitude,
that is to say a declination of 28°N projects itself on the same latitudes - like those of Florida-.

Click the images to enlarge.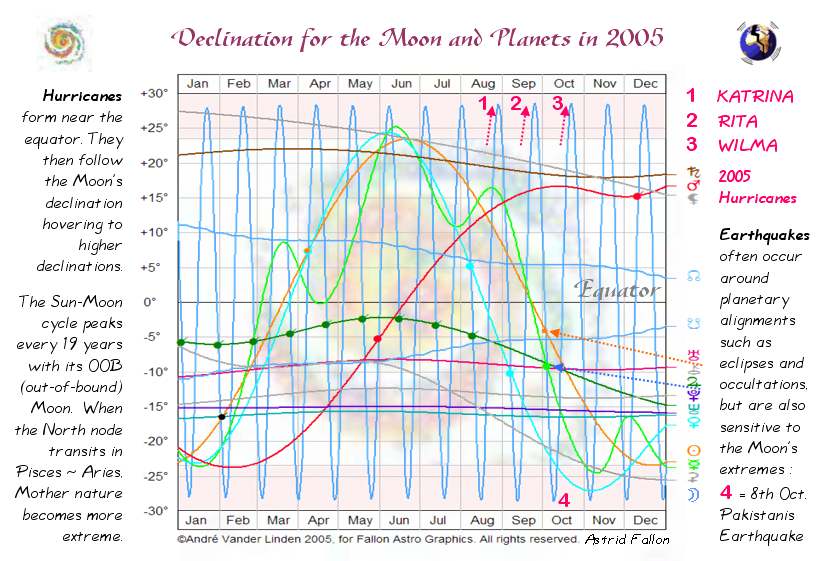 In consequence, the most sensitive Atlantic hurricane dates for 2006 are

16-18 August, 12-15 September and 9-12 October :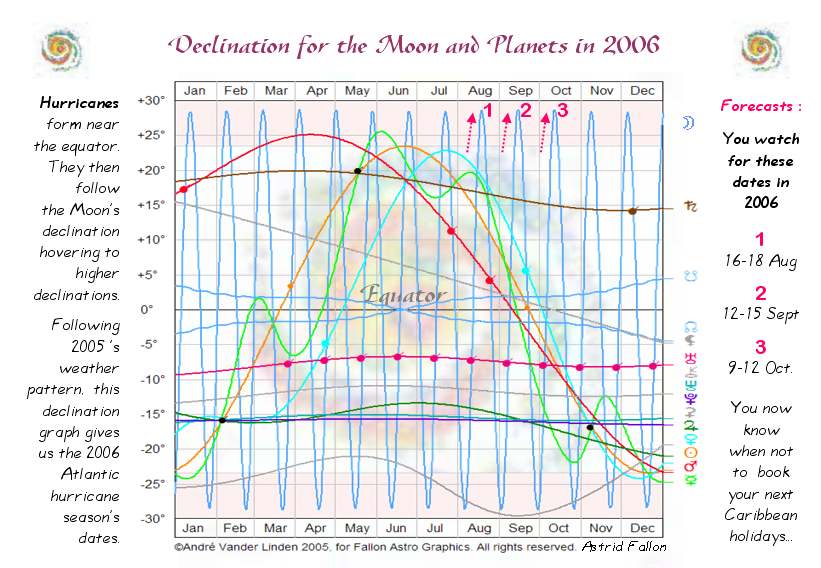 September 2006 is also particular for its Sun eclipse right close to the equinox.

The same day, 22 September 2006, the Moon crosses the South node while at her True apogee too.

This means both Full Moon (on each side of the Sun eclipse) occur near Perigee:
These dates (7-8 Sept and 6-7 October) will see big waves for the surfers to enjoy.
But if I was a fisherman -anywhere in the world-, I would try to avoid going to sea on a small boat.


Astrid Fallon, 22 May 2006.

© 2005-2011, Astrid Fallon. All rights reserved. Tous droits réservés.

---
Astrid Fallon,
117, Chemin des Salles, 83300 Draguignan, France
Tel : +33 (0)4.98.10.69.97 ; Mobile : +33 (0)6.42.59.43.72 ; Email: fallonastrographics @ free.fr


www.fallonastro.com