Home - 1 Tools - Outils - 2 Articles EN - Articles FR - 3 Order/Commandes - 4 About Us - 5 Reviews/References - 6 Links/Liens
Tools for Astrology ~ Outils pour l'Astrologie

First opened: 12 May 2000

Last Update: 5 Oct. 2023

Commandes d' Outils Astro 2024 : PDF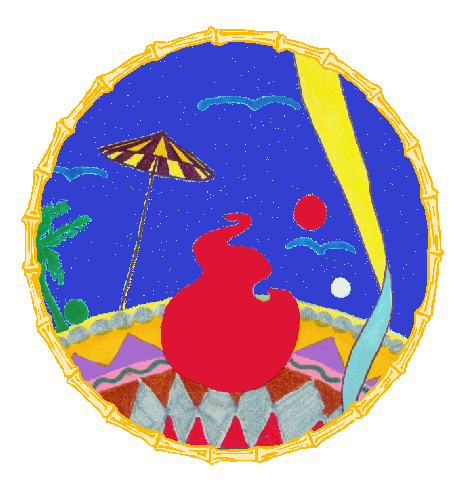 Tools
(
Catalogue here
) -
Outils
(Français, Catalogue à télécharger ici)
Astro Agenda 2024
Nouveau - New
:
Phénomènes Planétaires 2024
-
Planetary Phenomena 2024
2013 en un coup d'oeil :
Graphe annuel
&
trimestriel
: Holistic 2013
The Precise Planetary Phenomena
1920-2030
Livrets :
Astrologie en 3 Dimensions
Planetary Cycles at a glance
- Worldclocks: 2019
Update
- Books
Errata
Ephémérides numériques :
Ephémérides Graphiques 1000-2100
Nouvelle édition, reliée au fil !
Ephémérides Graphiques et Prévisionnelles 1960-2060
New publicatin, tread bound
!
Graphic Ephemeris for Forecasts 1960-2060
;
Newsletter
December 2016 -
Natural astrology
- Planetary Cycles -
Precise Planetary Phenomena
->>
Precise Progressed Phenomena
in practice : Famous Charts
Bulletin
28 février 2019 - Astrologie naturelle - Cycles planétaires - Occultations - Eclipses - Noeuds
Déclinaisons - Thème en Domitude - PPP - L'occultation de Vénus du 1er déc. 2008
L'éclipse totale de Soleil au périgée lunaire du 22 juillet 2009
Corrélations astrales des Canicules exceptionnelles 2022
L'indice cyclique et la concentration planétaire de 2019 à 2024 2023

Conférences ~ Webinar en Replay :

3 avril 2020 - Six astrologues se penchent sur la situation actuelle,
1e partie, avec M-L. Daguerre et A. Fallon * ISAR France, Webinaire.
Replay from min 11'30'': https://www.youtube.com/watch?v=pSgJ6BfVm4w

10 juin 2020 - L'éclipse solaire du solstice d'été 2020 et le cycle de Méton, avec Jelena Lemot * FDAF, Webinaire.
Replay: https://youtu.be/MhCl3vmoJzI

1er octobre 2020 - Interpréter les déclinaisons en astrologie : 1.10.2020, ISAR, Webinar, 1h30', Replay à $9,99. *
Extrait de 9 min sur l'orientation du zodiaque, Bélier à droite: https://www.youtube.com/watch?v=wEc9BQrHlcg

21 octobre 2020 - Emmanuel et Brigitte Macron, vu sous l'ange des déclinaisons * FDAF, Webinaire, 40 min.
Replay: https://youtu.be/fH5Ha5fd0tE

9 décembre 2021 à 20h30 - Les Déclinaisons en pratique * ISAR, Webinaire, 1h30'. Inscription à $9,99.
Inscriptions https://isarastrology.org/event/les-declinaisons-en-pratique/


Contact Us / Order
(English) -
Commandes
(Français)

Order Forms to print for :
England
-
World
-
España
Credit Cards accepted (PayPal by Email)
Bon de commande de livres : France - Belgique - Commande de cartes du ciel (document PDF)
Cours et consultations par Skype, avec Webcam - Carte bancaire acceptée (par PayPal Email)
Favorite links - Associations - Periodicals
Liens Favoris et Conférences, séminaires & alteliers
Webinaire GRATUIT de l'ISAR France, ce jeudi 12 octobre, à 20h30
L'influence de l'Indice Cyclique sur nos Nativités et sur nos Vies
Comment les flux et reflux cycliques des concentrations ou éparpillements planétaires nous affectent dès la naissance, comme au cours de l'histoire passée et puis en transit ? Quels sont les atouts et les écueils de ces flux ? Où en sommes-nous en 2023 en relation avec l'indice cyclique proposé par André Barbault, et que pouvons-nous en espérer ou construire pour les années à venir ?

Lien d'inscription :
https://us06web.zoom.us/webinar/register/WN_IK7v4ySZTR6M5m0B5UlfaQ#/registration
Site de l'ISAR :
https://www.isarastrology.com/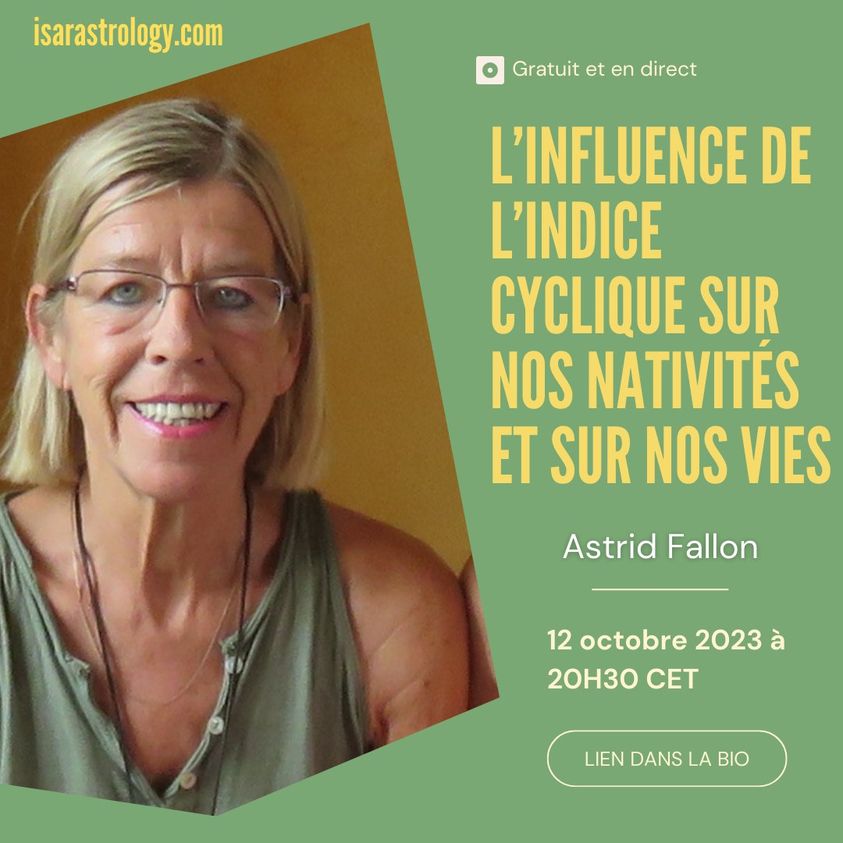 From anywhere on the site, clicking the

yellow logo brings you back to this Home page.
And clicking
Refresh
on most pages allows to view latest updates.
© Astrid Fallon, 2000-2023. All rights reserved. Please ask permission to publish any article from this site.
N° SIRET : 51011716100024
---
Astrid Fallon,
117 Chemin des Salles, 83300 Draguignan, France
Tel : +33 (0)4.98.10.69.97 ; Mobile : +33 (0)6.42.59.43.72 ; Email: fallonastrographics @ free.fr ou astridfallon @ hotmail.com



www.fallonastro.com